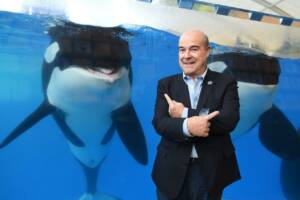 Loro Parque has received this weekend the visit of the famous Spanish actor of cinema and television, Antonio Resines.
The acclaimed artist has enjoyed his stay in Tenerife discovering the wonders of the animal world and the entertaining educational presentations of Loro Parque. Also, during his visit, Resines has experienced at first hand the important conservation work carried out every day in the Park, as well as the different projects that Loro Parque Fundación carries out all over the world.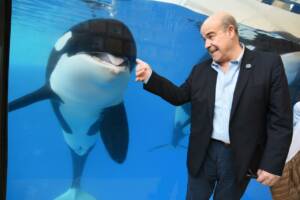 In this sense, although this is not the first time that the renowned actor visits the facilities of Loro Parque, he did not want to say goodbye without first devoting a few words in the Golden Book. He has affirmed to have had a " wonderful " visit, which has made him " magnificently pleased by the people of the Park ".
Thus, once again, the winner of a Goya and three Fotogramas de Plata awards proved that Loro Parque is an international benchmark, innovative in terms of animal welfare, biodiversity conservation and environmental protection.