Original article: A new hope for the Blue-throated Macaw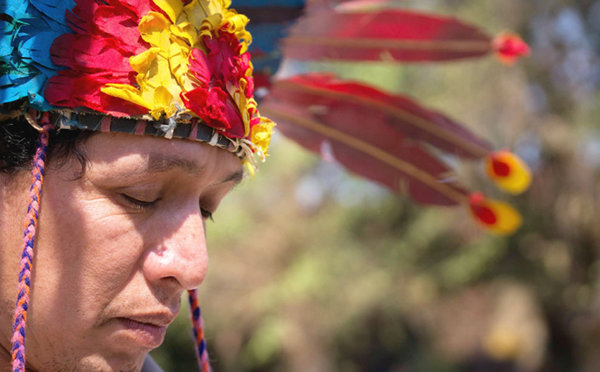 The discovery of a new roosting site for Blue-throated Macaw Ara glaucogularis coupled with an innovative and successful programme geared towards promoting the use of artificial feathers in ceremonial headdresses, gives renewed hope for the survival of this charismatic parrot.
The Blue-throated Macaw is one of South America's rarest parrots, with a population estimated at around 250 individuals. In the last decade, Asociación Armonía (BirdLife Partner in Bolivia) has been tackling the main threats affecting it: habitat loss, the lack of breeding sites and ending illegal poaching. But their approach to ending the latter has been especially unique and very successful: to give locals an alternative to using real macaw feathers for their headdresses.
During their traditional celebrations, the inhabitants of the Moxeño plains in Bolivia's Beni department perform with colourful headdresses as they move to the rhythm of bongos and flutes. The dancers, so-called macheteros, dedicate their movements and attire to the colours of nature. Unfortunately, those headdresses are made of macaw tail feathers from four different species, including the Blue-throated Macaw.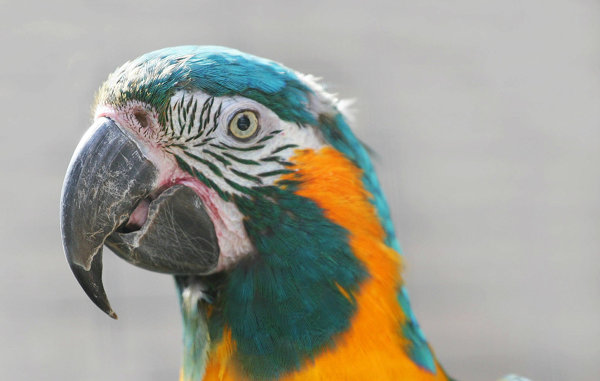 This is where Armonía's Alternative Feather Programme comes in; it consists of an educational campaign promoting the use of artificial feathers made of organic materials among the macheteros through workshops held in local schools. Those workshops could only be made possible thanks to the financial support of National Geographic's Conservation Trust and the Loro Parque Foundation.
Since the Moxeños consider themselves to be the guardians of nature and all of its creatures, they were quick to understand the importance of using substitutes.
"Each headdress is made of an average of 30 central tail feathers; that means that one headdress of artificial feathers saves at least 15 macaws," explained Gustavo Sánchez Avila, Armonía's Conservation Programme coordinator for the Blue-throated Macaw in Trinidad.
The programme, which started in 2010 with the support of Loro Parque Foundation, not only protects this critically endangered Macaw, but also empowers local craftsmen and women to preserve their natural heritage and their culture.
Furthermore, after seeing the mesmerising dances, many tourists buy the alternative headdresses as souvenirs, providing locals with much needed additional income.
Since 2010, the Moxeño people and Armonía have saved over 6000 individuals of four macaw species and engaged thousands of local people in the conservation of Bolivian nature. Most big Moxeño towns already host alternative feather training workshops, but rural areas still use real feathers. If you wish to help, you can support Armonía so that they can organise additional training workshops this year and save even more macaws.
New rosting site
While conserving the already established populations of the Blue-throated Macaw is essential to their survival, further research remains vital to make sure none of its habitat is left unprotected.
However, entering the Bolivian northern Department of Beni during the rainy season is a huge adventure. As seasonal rainfall merges with melt water from the Andes, the grasslands become extensively flooded, making it impossible for cars to travel around the area for three to five months every year.
The situation forces locals to revert to their old ways, using horses to get across a savannah that is speckled with pools of water, knee-deep mud and head-high grasses. As a result, conservation research becomes complicated and expensive.
But this was not going to stop our team of conservationists at Asociación Armonía, supported by the Cornell Lab of Ornithology and the Loro Parque Foundation, when they set off last summer to search for more roosting grounds of the macaw in this remote region.
The truth is that the team had had many rough failed trips in the region to verify sites where owners swore they had seen the parrot, only to find they got the wrong bird. So, when they got a call from a local ranch owner who claimed to have seen the Blue-throated Macaw in his fields, the team reacted with some disbelief.
They had seen this happen a few times already: while many ranch owners proudly believe that they have seen the Blue-throated Macaw, to the untrained eye it is often confused with a more generalist species, the Blue-and-yellow Macaw Ara ararauna.
Surprisingly, when they arrived on site, it turned out that at least 15 Blue-throated Macaws had made a small forest island their home. This new roosting site was confirmed only forty kilometres north of the Barba Azul Nature Reserve: the largest concentration of macaws in the world live here, with yearly counts of over 100 individuals.
At one of Beni's most important events of the year, the Chope Piesta, the macheteros are getting ready to start their traditional dance. Today, headdresses with alternative feathers outnumber natural ones nearly five to one. In the meantime, conservationists rejoice about the new discovery of a roosting site. Developments worth dancing about.