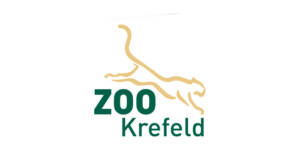 The start of the year 2020 was unfortunately an incredibly sad one for us as a modern zoo committed to nature, species and animal protection!
For it was with great dismay that we had to learn that on New Year's Eve the tropical Great Ape House built in 1975 at Krefeld Zoo which had been a pioneering step in modern zoo biology for a long time and which housed numerous marmosets, agoutis, flying foxes and birds alongside West African chimpanzees, Borneo orangutans and the two senior gorillas Massa (48) and Boma (46) in the midst of lush tropical vegetation, completely burned down.
Except for two chimpanzees – which miraculously survived – more than 30 animals lost their lives in this dramatic fire tragedy.
This fire was obviously caused by Chinese "sky lanterns", which are forbidden in Germany.
Just a few days before New Year's Eve, Krefeld Zoo had appealed to the city's inhabitants to donate money for the further improvement of ape keeping in the planned "Chimpanzee Forest" instead of spending it on the short-term pleasure of the – on top of that environmentally harmful and not very animal-friendly – fireworks! Actually, it should be a matter of course for every clear-thinking person that fireworks are not supposed to be placed near zoos and other animal facilities.
In addition, in view of the fire catastrophes in nature, which are occurring more and more frequently due to human activity and climate change, we should bear in mind that countless animals lose their lives in their habitats in a similarly tragic way. According to the University of Sydney, 480 million birds, reptiles and mammals, including almost 8,000 koalas, have lost their lives in the bush fires in Australia since September 2019.
The commitment of modern zoos to nature and species conservation and animal protection is all the more important. It is true that the zoo community has lost great animal personalities in the tragic fire disaster at Krefeld Zoo. But our joint commitment to the preservation of wildlife and nature will continue and we will move even closer together.
Our thoughts are with our colleagues at Krefeld Zoo, especially the animal caretakers of the Great Ape House, who loved the animals entrusted to them very much.
Dear Team of Krefeld Zoo: We wish you in the coming days and weeks a lot of strength, courage and confidence! If we can help in any way, please let us know!
Your team from Loro Parque