A research collaboration between the Loro Parque Fundación of Tenerife, Spain and the University of Giessen in Germany is using a new technique to help the recovery of the Spix's Macaw (Cyanopsitta spixii), a species that is almost certainly extinct in the wild since the year 2000. The species still exists in captivity, although there are less than 80 individuals within the recovery programme overseen by the Brazilian Government, and reproduction within this population is slow.
The main objective of the project is to increase the number of young birds being recruited to the population, by the use of sperm collection and artificial insemination (AI). Although successful in humans, many other mammals, and some other types of birds, sperm collection and AI in parrots have had very limited success. However, the use of this new technique shows very promising results, and hopefully will lead to an improved breeding success in this incredibly rare macaw.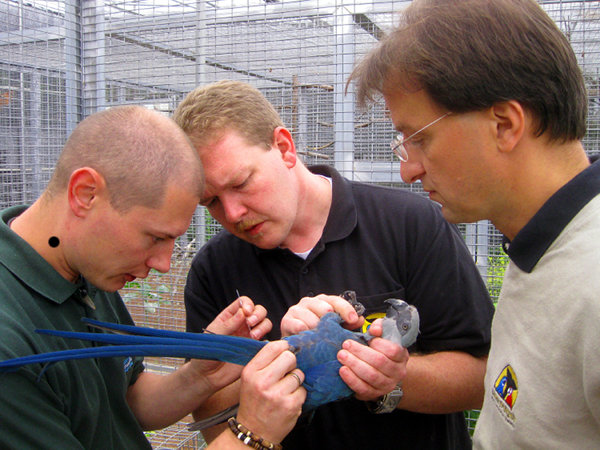 The initial phase of the project started in 2009/2010, during which time the technique was successful for the first time in collecting sperm from this species, in the Spix's Macaw Breeding Centre of the Loro Parque Fundación in Tenerife. There are nine macaws on loan from the Brazilian Government, which gave its permission for this technique to be tested. As yet no successful AI has taken place, but the technique will also be used elsewhere, especially at the Al Wabra Wildlife Preservation centre in Qatar, which has more Spix's Macaws to include in the trials.
During the same period, and using the new technique, there was successful semen collection and AI performed in over 100 species of large species in the Loro Parque Fundación's collection of parrots, the world's largest and most diverse. It is a significant step for species conservation efforts, and this pioneering first phase now acts as an excellent foundation for establishing a method for cryopreservation (frozen storage) so as to establish a parrot sperm bank.