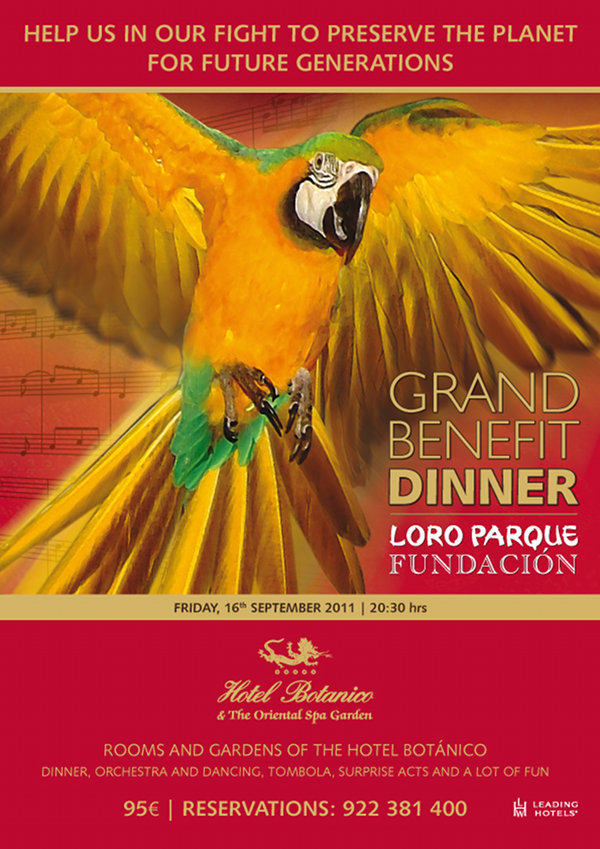 Loro Parque Fundación is its third Grand Benefit Dinner for the conservation of nature at the Hotel Botánico in Puerto de la Cruz. This event will take place on the 16th of September at 8.30 pm, in the gardens of the luxurious hotel and will be attended by various personalities, who, as every year, join the commitment to raise funds for various conservation projects.
This time, the popular Canarian singer Chago Melián offers an exclusive concert for those attending the dinner, and together with several prominent artists such as the Beatriz Alonso Quartet, which will present its new album, and the creative young Yanira, who will delight all participants with her artistry in playing the harp. They and other artists will enliven the evening with performances, and a big raffle with wonderful gifts will surprise everybody to make this an unforgettable night.
Persons interested in attending and contributing to this important work, can get their tickets for 95€ by calling 922- 37 38 41, ext. 345 or sending an email to [email protected]. For more information, please visit the website from Loro Parque Fundación.
Thanks to the important contribution received in the last Benefit Dinner, Loro Parque Fundación raised more than 80.00 US Dollars, which enabled it to carry out many projects to protect the natural world, improve our children´s education and increase the prosperity of the most marginalized communities. Very important to mention are the environmental education activities conducted not only in Spain, but also in other countries, by using videoconferences with schools into which the images of animals are brought directly to their classrooms, facilitating learning for all children, especially those with limited mobility.