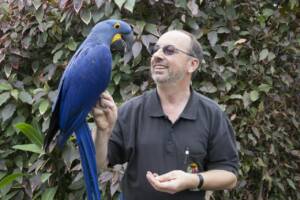 LORO PARQUE is pleased to announce that starting January 2019, Mr. Wolfgang Rades will be assuming a new position at Loro Parque and Loro Parque Fundación as a Wildlife Conservation Officer for Europe.
With his extensive expertise as a zoological biologist and ecologist, we have found in Mr. Rades a strong advocate of animals, conservation and protection of biodiversity. At a young age, he committed himself to the welfare of the animals. For nine years, he worked as a Wildlife Protection Officer for the German Nature Conservation Union (NABU) and then for several more years he led the Vogelpark Herborn, before he joined us in 2015 and held the position of the Zoological Director for 2 years.
We welcome Mr. Rades in our team again and look forward to a successful cooperation.