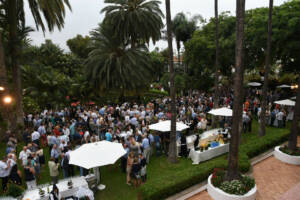 Loro Parque Foundation's IX International Parrot Congress of Loro Parque Fundación was presented this morning, Tuesday, September 25, at Puerto de La Cruz's Congress Centre.  The event, unique in the world, has attracted to the island some 800 participants of 47 different nationalities, and celebrated its opening last night in the wonderful facilities of the Hotel Botánico.
The press conference was attended by the Mayor of Puerto de La Cruz, Lope Afonso Hernández, the President of the Loro Parque Company, Wolfgang Kiessling, and the Scientific Director of Loro Parque Foundation, Rafael Zamora.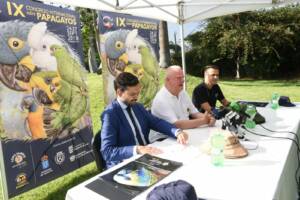 Firstly, the President of the Loro Parque Company wanted to highlight the importance of an event such as the International Parrot Congress, which is held every four years and brings together in Puerto de La Cruz the most important experts in the field worldwide, in a unique environment.  He also took the opportunity to review the latest developments in the Parque, such as the new installation for the Pygmy Hippos, which was inaugurated this afternoon, and highlighting the Company's ongoing commitment to nature, using as an example the strategy for the elimination of single-use plastic in their installations, which is already in its final phase.
For his part, the Mayor of Puerto highlighted how Loro Parque has been able to organise the largest congress of the decade, bringing together a large number of people who will be enjoying the scientific interchange, but also the city, the Hotel Botánico, and of course, the rest of the Islands.  In addition, he pointed out that it's another opportunity to put the name of Puerto de La Cruz in the forefront of the minds of people in the five continents from which the congress attendees come.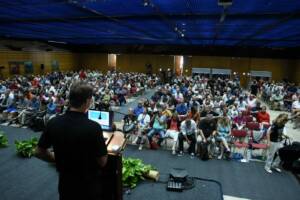 Finally, the Foundation's Scientific Director, Rafael Zamora, assured that among the topics that will be dealt with in the Congress are animal welfare, parrot conservation – a very important part of the Loro Parque Foundation, which has been working for years with recognised successes – and the maintenance of birds in a controlled environment.  Zamora also stressed that this is a unique event, bringing together more than 1,000 people in a tourism that looks to protect nature.
In this edition, and in response to an unprecedented demand, intensive workshops will be given during the three days following the Congress, in which different experts will offer direct training in different fields linked to the world of conservation.
For more information about the IX Parrot Conference:
http://www.loroparque-fundacion.org/congreso/index.php/es/