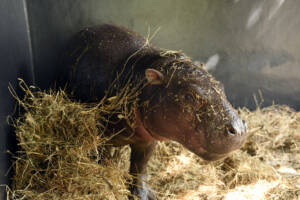 After the grand opening of the Zen Garden, a submerged garden unique worldwide, was celebrated just a few months ago, and after receiving the recent recognition of TripAdvisor as the world's Number One zoo for the second consecutive year, Loro Parque is once again bringing new surprises for those who appreciate its great commitment to wildlife in all its beauty and diversity.
This time, as part of its ongoing commitment to conservation, Loro Parque welcomes two new members to its large zoological family tomorrow, Saturday September 1: two Pygmy Hippos who are arriving directly from Germany and the Czech Republic to live together in a naturalised facility specially designed for them.  In the Parque, they will act as representatives of their peers in nature, who are facing serious problems, due in particular to the destruction of their habitat.
Adela and Malela, both females, will live in a space that recreates the swampy areas where this species lives in the wild, with water as the main element.  As they do not sweat, contact with the air dries their skin very quickly, so water is vital to lowering their body temperature and keeping their bodies hydrated.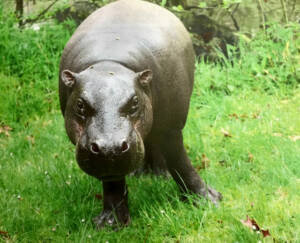 Pygmy Hippos are vegetarians, consuming mainly leaves, ferns, herbs, roots, fallen fruit and shrubs, as well as semi-aquatic plants, which they eat from time to time.  Unlike most animals, this species uses its lips instead of the teeth to gobble up food.
A unique feature of this species from the African continent is that, unlike common hippos, they do not have their young in the water, but give birth on land and the young are able to swim immediately after birth.
Without a doubt, the arrival of these two female Pygmy Hippopotami at Loro Parque will allow the visitors from around the globe to discover a magnificent species, which is in danger of extinction according to the International Union for Conservation of Nature (IUCN).
New surprise attraction: Ringed-Tail Lemurs
Very close to the new facility that will host the Pygmy Hippos, visitors will be able to discover a species from Madagascar of great charisma – Ringed Tail Lemurs, which are also endangered in nature.  Familiar and very sociable, they belong to a primitive group of primates, which are associated in clans of up to 30 individuals and are usually dominated by the females.
Unfortunately, habitat loss due to mining, logging and hunting, among other threats faced by the species in the wild, has led to a population decline of more than 50 per cent over the past 30 years.  Their presence in Loro Parque will thus help to raise awareness among visitors of their precarious situation in Madagascar.
Loro Parque, as a wildlife conservation centre, has affirmed that it is happy to be able to share these innovative facilities with all its visitors and wanted to reiterate its gratitude: to its fans on social networks for all the messages of support and congratulations for their work; to the tour operators, for their important commitment to a zoo whose priority is animal welfare and to all the collaborators in the scientific field, for sharing with the Loro Parque team their mission – to protect and conserve animals and their natural habitats for future generations.