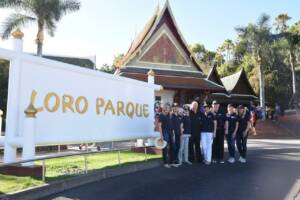 Loro Parque has received, this morning, Thursday October 11, the Board of Directors and some collaborators of the American Humane Association, who have come to the Islands directly from the U.S. to get to know the facilities of the zoo recognised as the best in the world according to TripAdvisor.
The delegation, headed by its CEO and president, Dr. Robin Ganzert, toured the different exhibitions and were able to enjoy the presentations of the orcas and dolphins offered by the Parque, in addition to learning first hand the work of the Loro Parque Foundation in conservation matters thanks to a relaxed talk with its director Dr. Javier Almunia.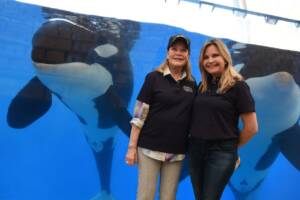 Dr. Ganzert was accompanied by the famous actress and producer Barbara Niven, as well as by the well-known Mrs. Candy Spelling, author and widow of the famous Hollywood producer Aaron Spelling. Their marriage gave birth to two children, actor Randy Gene Spelling and Victoria Davey (Tori) Spelling, known for appearing in several Aaron Spelling productions, the most notable being Beverly Hills 90210.
Also with them were John Payne, president of the Board of Directors – with over 33 years of experience in the animal care industry and founder of Compassion-First Pet Hospitals, a group of highly reputable veterinary hospitals – and Dawn Assenzio, secretary of the Board and organiser of the famous K-9 Battle Buddies, an event that honours the bravery and courage of military dogs and their handlers.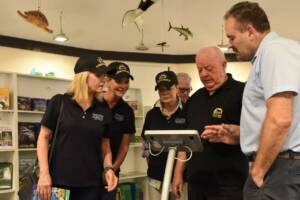 Wellbeing certificate
In 2017, this prestigious entity certified the positive welfare status of all the animals in Loro Parque, which became the first zoo in Europe to achieve this standard. Amongst the many aspects taken into consideration, the excellent state of health and housing; positive social interactions within animal groups, and between animals and carers; safe environments, with appropriate lighting and sound levels, good air quality and thermoregulation; and evidence of preparedness and protocols in place to prevent and manage medical emergencies were highlighted.
American Humane, an association with more than 140 years of experience, focuses its efforts on ensuring the welfare of animals through the evaluation of various parameters of the life of the specimens that inhabit zoos, aquariums and centres of conservation around the world. It's also responsible for the famous phrase "No animal has been harmed during the filming of this film", which appears in Hollywood feature films thanks to its 'Humane Hollywood' programme, which ensures the welfare of all animals in productions.