The Harderwijk Dolphinarium selected our Orca Ocean facilities to harbour a baby Orca named Morgan, which was rescued by the Dutch dolphinarium in the Wadden Sea on the 23rd of June, 2010. This decision was announced yesterday by the Dutch Court who ruled in favour of the position taken by the Ministry of Economic Affairs, Agriculture & Innovation after consulting multiple cetaceans experts.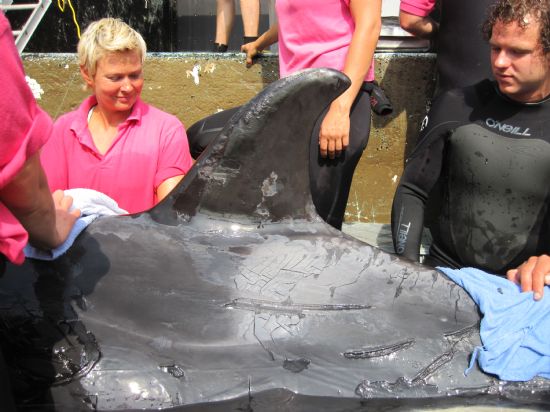 The youngster appeared moribund with severe signs of malnutrition and which was saved by the Dutch dolphinarium from a certain death. After regaining her weight and health for a year, she can now be introduced to our group of Orcas, this being the most suitable location in Europe for Morgan to continue living healthily and integrated with a family, given that it has the best facilities and expert staff needed to take proper care of her.
In this regard, the Deputy Director of the Loro Parque Foundation and head of the marine conservation programmes, Dr. Javier Almunia, stated "Our only interest is to help this animal and provide the greatest attention to its development, as we have done in the past with other rescued animals, which is why we have not hesitated to make our facilities and our team of professionals available to this animal."."
The decision to integrate Morgan into a group of orcas in captivity was taken by the entity in charge of the case, in this instance, the Dutch Ministry of Economy, Agriculture and Innovation; after consulting a group of the world's leading experts on orcas and listening to different opinions on the case. The unanimous conclusion reached by the expert scientists was that this was the only chance of survival the animal had, because it is a marine mammal belonging to a social species which needs to form part of a group to survive. For this reason, and due to the fact that we have the facilities and expertise required, the experts in charge of the animal have initiated the legal steps to carry out the transfer of the animal to Spain, which will take place as soon as possible, when the logistical process and training session are complete.