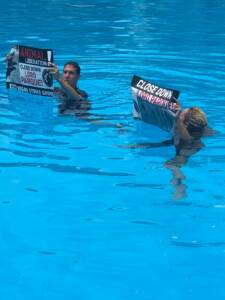 Yesterday morning, Sunday 26th August, just a few minutes before the start of one of the Loro Parque dolphin presentation, three radical activists, two Belgian and one Dutch, irresponsibly jumped into the water of the dolphins' pool, without taking into account the terrible consequences that can result from such an action, for the animals, their trainers and for themselves.  These people are perfectly aware that you cannot predict the behaviour of dolphins, and yet they jumped in.
Fortunately, thanks to the strong bond of friendship and trust between the animals and their trainers, it was possible to avoid them succumbing to fear and a much worse outcome was avoided.
This type of vandalism is happening all the time; examples could be the release of minks or squirrels from farms, which are becoming a serious ecological problem for the affected regions.  It is also worth recalling a case that occurred in Florida, where two dolphins were released into the sea, without being prepared for the process, by an activist Ric O'Barry: one of them died almost immediately and the other lived the rest of its life with serious lacerations received as a result of this deed.  This action was brought to trial and the individual concerned was convicted and made to pay the maximum fine for such a serious incident – $50,000.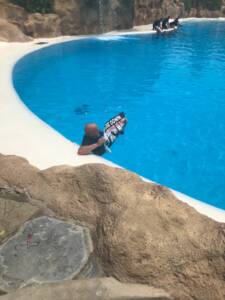 Loro Parque suggests that the authors of the present type of action should be more concerned about, and deal with, the terrible damage done to the more than 100 million sharks that are being killed for their fins each year, to the forests that are disappearing by leaps and bounds and with them the habitat of millions of species, or the oceans which are in a terrible state due to noise and plastic pollution.
Loro Parque has always given great importance to the scientific work that is carried out with their animals, and the presentations, so valued by visitors to the Parque, have an eminently educational character.
In its commitment to the environment, Loro Parque has invested more than 18 million dollars in environmental projects through their Loro Parque Foundation, saving, amongst other important achievements, nine species of parrots from imminent extinction, and improving the populations of many other animals.
Those who claim to be pro-animal activists and allow such acts of vandalism to take place for the sole purpose of attracting media attention would do well to ask what they have done for nature and what real or economic contribution they have made to the protection and conservation of wildlife.
Loro Parque would like to thank the people present at the presentation for clearly expressing their indignation and rejection of this type of action and their harsh criticism of these individuals, as well as their gratitude to all the true lovers of nature who have supported the Parque on social networks since the news was made public.