This type of reptile is easily identifiable by its distinctive shell. There are terrestrial and marine species and have a life span of more than 50 years.
They have no teeth but have a powerful beak similar to that of birds. Their diet includes plants, and in some cases, also insects and worms.
Tortoise species you will find at Loro Parque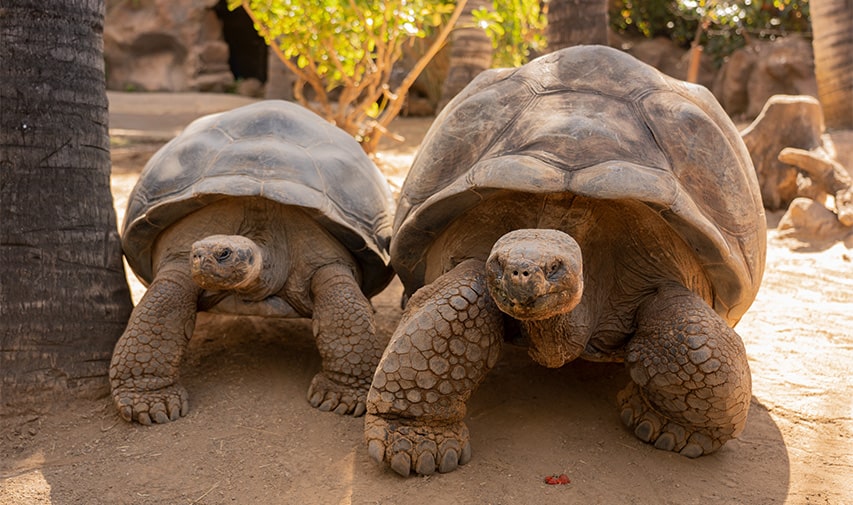 Galapagos giant tortoises
Chelonoidis nigra
These are the largest tortoises in the world. They can reach up to 2 metres long and live for more than 100 years. They are adapted to very arid habitats and can survive for months without any food or water.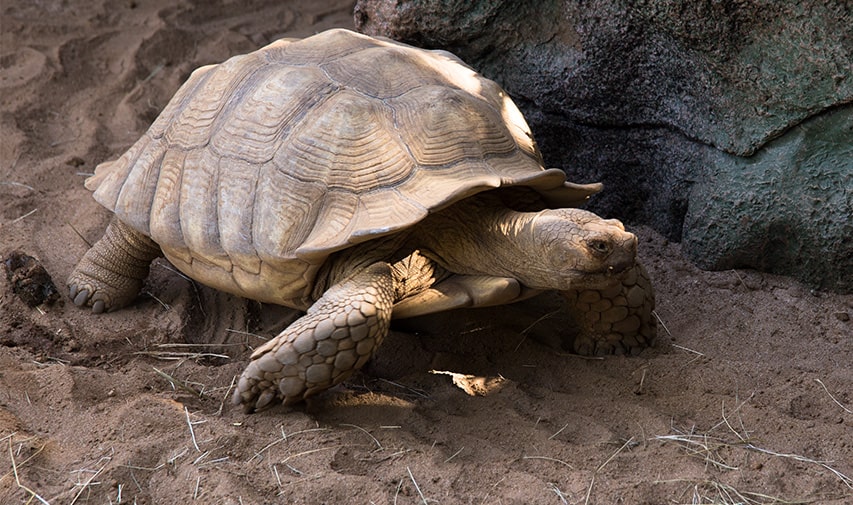 African spurred tortoise
Geochelone sulcata
It is the third largest land tortoise after the Galapagos and Seychelles tortoises. Its name comes from the spurs on its hind legs. Its most common habitats are semi-desert or dry regions.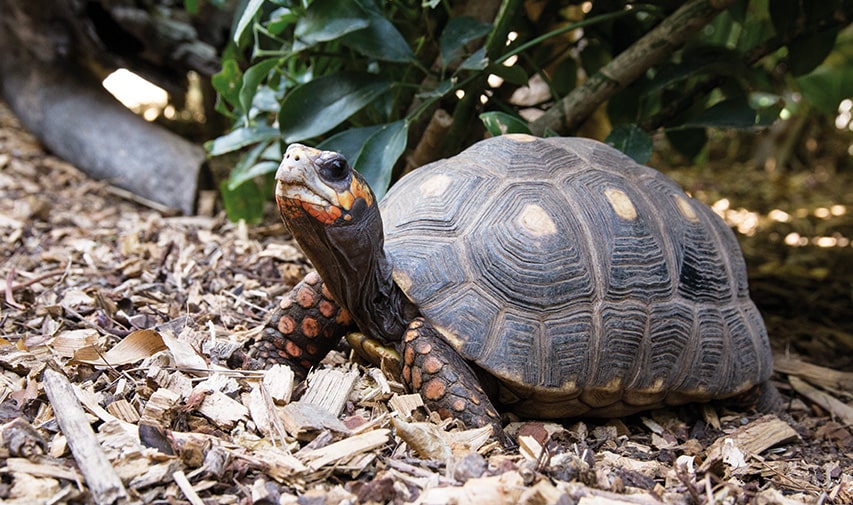 Red-footed tortoise
Chelonoidis carbonaria
A terrestrial tortoise native to savannahs and tropical forests. It is active during the day. It is herbivorous and a scavenger, but the mainstay of its diet is vegetables, fruits, and plants.


DIET
Herbivore and scavenger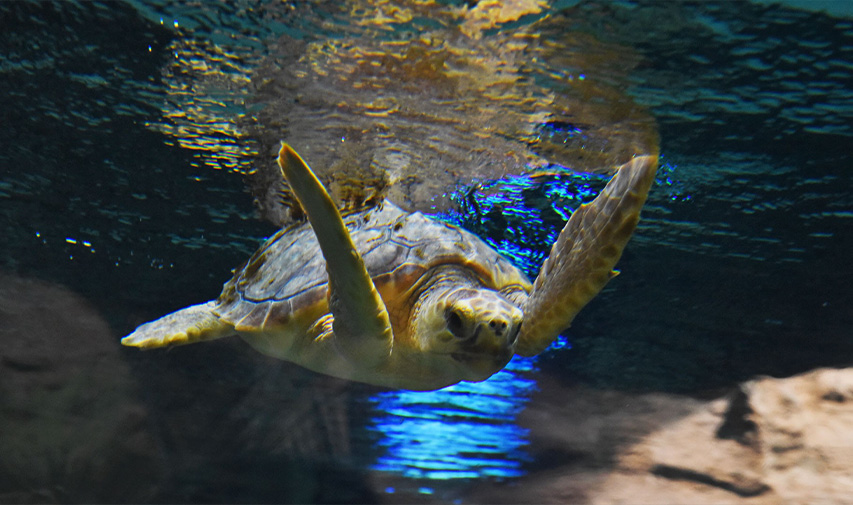 Loggerhead sea turtle
Caretta caretta
They inhabit seas and shallow coastal waters, concentrating their activity during the day. They do not usually come ashore except for nesting and egg-laying. They are submerged 85% of the time.
These sea turtles are in a vulnerable conservation status. Their population has been depleted by fishing gear floating in the ocean.



ORIGIN
Atlantic Ocean, Indian Ocean, Pacific Ocean, and Mediterranean Sea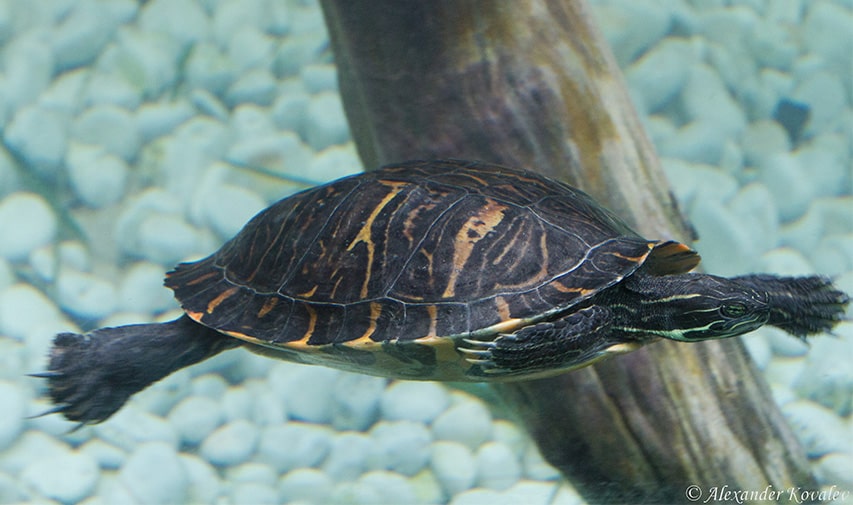 Painted wood turtle
Rhinoclemmys pulcherrima
The diet of this type of turtle combines leaves, fruits, and insects. You will instantly identify them by the orange and yellow colours of their shell.
They usually hide on land under plants and dry leaves, although they also occasionally dive into water. They are commonly found in humid climates.




Interesting facts about turtles
The sex of each turtle depends on the sand temperature in which the eggs are incubated. Females hatch at higher temperatures.
Part of their backbone is attached to the shell.
They are ectothermic animals, meaning that they regulate their body temperature through external factors.
How we help the conservation of turtles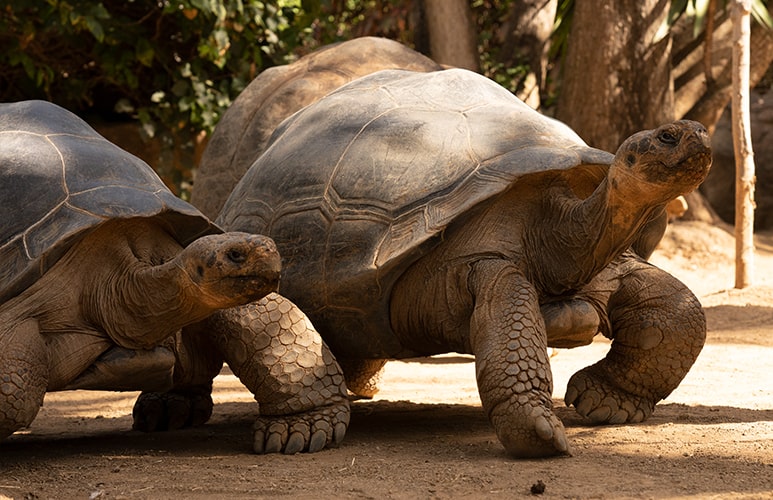 Through Loro Parque Fundación we support turtle conservation initiatives in Macaronesia, which currently include:
• The loggerhead turtle conservation project, CITES I
• The green sea turtle conservation project, CITES I
The IUCN lists the green sea turtle as endangered and the loggerhead turtle as vulnerable. The annual decline of these turtle populations requires collective efforts for their protection.