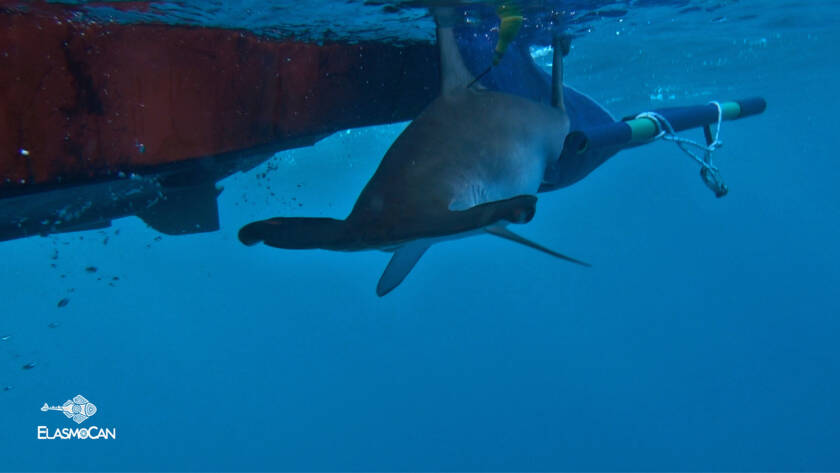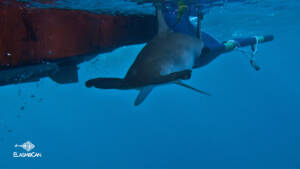 Using the funding received from Loro Parque Foundation, the scientists of the Canarian Association of Research and Conservation of Elasmobranchs (ElasmoCan) were able to tag a shark with a satellite device for the first time in the Canary Islands. Thanks to this achievement, the experts will now be able to study the range and depth of movement of the specimen, as well as its preferences for water temperatures.
The specimen to be studied is a smooth or horned hammerhead shark. Currently, the limited knowledge about these animals confirms the presence of two species in the waters of the Canary Islands. In general, there is very little photographic evidence of their sightings available on the social networks. At the same time, hammerhead sharks are easily caught in varied fishing techniques and, consequently, their mortality rates are quite high. Due to their swimming capacities and behaviour, these statistics cover vast geographic areas and include several countries. This poses major difficulties for creation of effective measures for the conservation of the species.
In light of this situation, ElasmoCan has developed a research project called 'Hammerhead Shark Research', which aims at gaining basic understanding of these species, which would enable the management and protection of their regional populations. The research study focuses on tagging sharks in the islands of Gran Canaria, Fuerteventura and Lanzarote. The research locations were chosen based on the registered sightings of these animals by professional and amateur fishermen. Such approach has enabled the scientists to confirm the presence of younger specimen of the sharks in these coastal waters, register their biological data and sample their tissues. These will prove useful in future studies of these species in the general geographic zones and the tropics.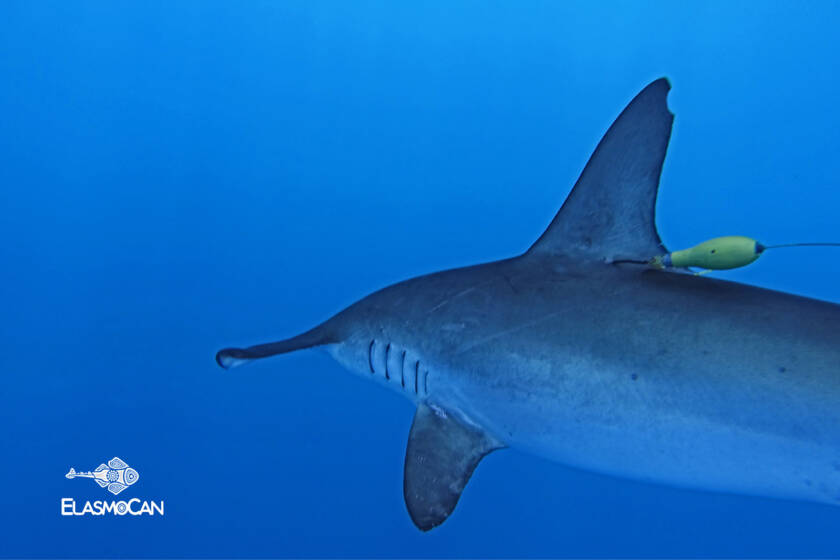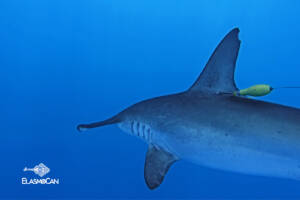 Furthermore, the project has been able to expand its research capacity by using the telemetry technology, which allows remote data transmission. Dr. Filip Osaer, a project leader from ElasmoCan, highlighted the importance of this initiative, which uses cutting-edge technology, for the Canarian Archipelago. He explained that the research team utilizes a Pop-up Satellite Archival Tag (PAT tag) that is capable of storing information about temperature, depth, and light intensity.
Another interesting aspect of the project is that the tagging device will release itself from the animal after six months, while the data will be stored and transmitted via satellite. A reward will be offered to the person/s who will help to find the device and returns it to ElasmoCan.
Founded in 1994, Loro Parque Foundation has invested to date over US$ 17 million in research and conservation projects for numerous endangered species, and has developed more than 135 in situ and ex situ projects worldwide. Presently, there are several projects carried out to protect and conserve marine biodiversity in the Canary Islands, one of which is the hammerhead shark research project realized in collaboration with ElasmoCan.