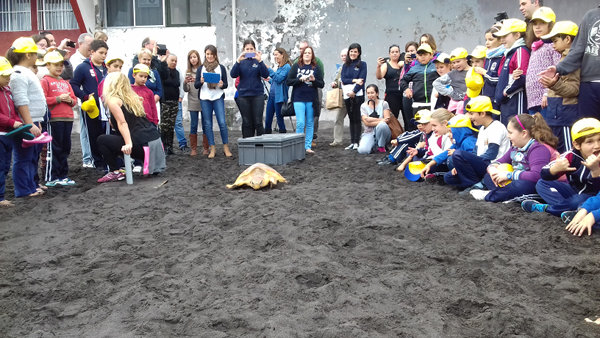 Loro Parque Fundación recently returned a loggerhead turtle (Caretta caretta) to the sea that had been recovering at the zoo's Aquarium for the last two months after being rescued on a beach in Gran Canaria with a fishhook inside its throat. Once the animal was transferred to the Wildlife Recovery Centre of Tafira, experts concluded that the most adequate place for its rehabilitation was Loro Parque, which has ensured a successful recovery and later reinsertion to the sea.
During the release, which took place at a Punta Brava's beach, educators from Loro Parque Fundación and Pascual Calabuig, the director of the Wildlife Recovery Centre of Tafira, explained the importance of conservation and the endangerment of the animals by pollution, for example by plastic waste to more than 100 primary school pupils from the Punta Brava's School. The most awaited moment arrived when students formed a central aisle, letting the turtle slide until its yearned destination: the ocean.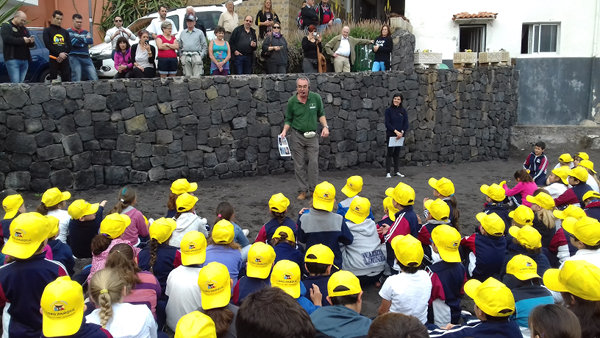 Ethical commitment of modern zoos to wild animals in need is an essential matter for the Foundation. Thus, it demonstrates its responsibility and readiness to foster and accommodate animals that need a temporary home – collaboration with other institutions is thus crucial.
Each year, more than 200 marine turtles arrive to wildlife recovery centres in the Canary Islands, most of them due to problems related to the impact of human activities in the sea; a great part of them can be recovered and returned to the sea. Loro Parque Fundación strengthens its commitment to raising awareness within the Canarian society on the need of acknowledging, protecting and conserving the environment and animal species.