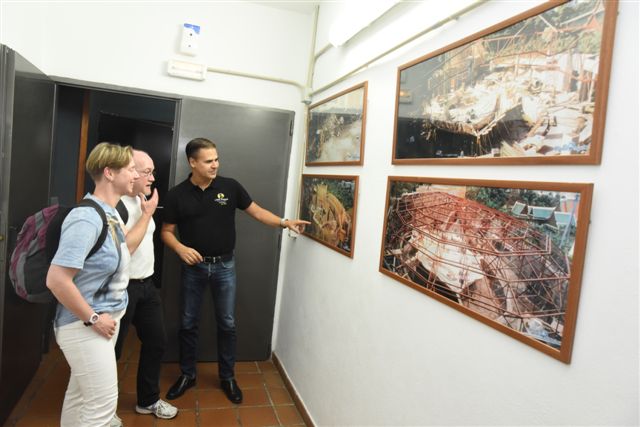 Loro Parque welcomed this Tuesday, November 20, the delegation from the Cuxhaven Penguin Museum, which holds the Guinness Record for the largest collection of penguin objects. During the visit, representatives of the German Penguinarium Stefan Kirchhoff and Birgit Berend, admired the large Planet Penguin installation and the important conservation work being carried out in Loro Parque, the best zoo in the world according to users of TripAdvisor.
The delegates, who have been touring penguin installations around the world and observing these animals in nature, underlined that they had visited the Park 12 years ago and had plans to return ever since. On this occasion they have come to make a report on the penguins that inhabit the Parque and see first hand the excellent conditions of the best penguinarium on the planet, Planet Penguin.
The representatives of the Cuxhaven Penguin Museum were welcomed by the Scientific Director of The Loro Parque Foundation Rafael Zamora, who explained the great variety of species in the installation, as well as answering their questions about the different conservation tasks that are carried out for the welfare of the animals.
This visit of the representatives of the German Penguin Museum to Loro Parque, voted the best zoo on the planet for the second consecutive year, represents the importance and value that these institutions have for the care and welfare of animals. In addition, it symbolises the role of wildlife conservation centres such as Loro Parque to make the dangerous situations denounced by the International Union for the Conservation of Nature (IUCN) visible and to make visitors aware of the importance of protecting animals to prevent their disappearance.