Miranda Theunissen first 'met' Morgan five years ago in the Dolphinarium at Harderwijk Zoo shortly after the whale was rescued in a shallow area off the Wadden Sea coast in Holland. From the first time Miranda, who is deaf and dumb with severe vision problems, saw Morgan she formed a special attachment to her and that was the beginning of a unique relationship. Altogether Miranda visited Morgan 88 times during her stay in the Dutch dolphinarium, spending many hours in the company of this spectacular animal with whom she has developed such a deep friendship.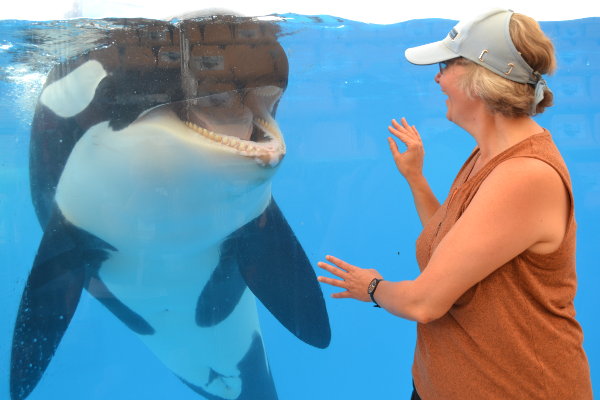 In July 2011, Miranda learned of the decision of the Government of the Netherlands to relocate Morgan to Loro Parque, after identifying the zoo as an ideal place for Morgan to be integrated into a social group of orcas, having an optimum degree in management and care for an animal of this species, and with objectives of education and awareness. Miranda says that she felt immediately very happy for Morgan, but also a little sad for not being able to be so close to her great friend anymore. Shortly afterwards Miranda began travelling to Tenerife with the purpose of visiting Morgan and this year she returned to Loro Parque for the third consecutive year.
Loro Parque organized a special visit with the Discovery Tour for Miranda so that she could take advantage of and fully enjoy her visit to Loro Parque and spend some time with Morgan. Miranda commented that she sees Morgan very happy with the other orcas in Loro Parque and that she will surely come back to visit Morgan every year, as long as her health, especially her sight, allows her.