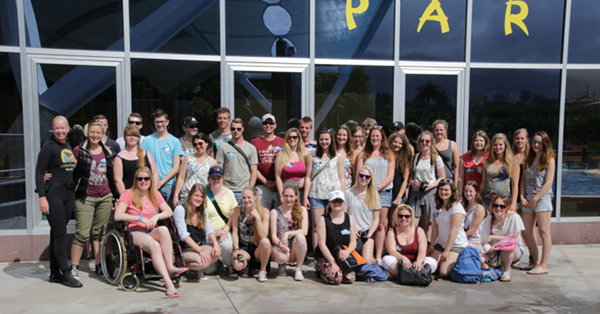 On May 9th 34 students of Animal Management from the Groenhorst College in the Netherlands, accompanied by their professors, visited Loro Parque. During their visit, they were able to get directly informed about the important role of the modern zoo as an embassy for wild animals.
The group of students was particularly interested in the work carried out by Loro Parque with the orcas at OrcaOcean, where they received a backstage tour accompanied by the zoological director of Loro Parque, Wolfgang Rades, and by the former student of Groenhorst College, Renée van Reeuwiik, currently working as an orca trainer at Loro Parque. Renée van Reeuwiik offered the students an informative presentation about training methods, orca welfare and the function of a modern zoo as an important bridge between us, human beings, who live nowadays more and more disconnected from nature, and the biodiversity of the animals. The emphasis is made on the many species that are threatened with extinction, in major degree due to human activities that have direct effect on their natural habitats, deteriorating them more and more every day.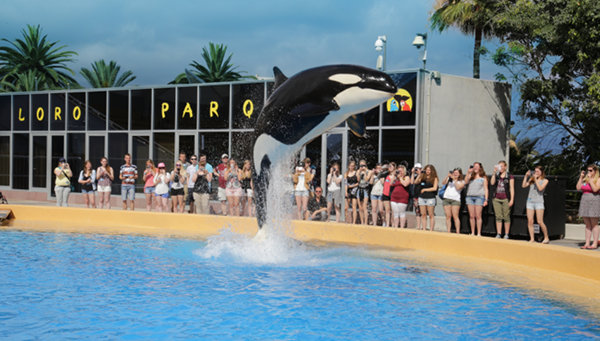 In a special session, the trainer team at OrcaOcean showed their guests from the Netherlands some behaviors performed by the orcas. As the students were particularly interested in the in 2010 in the Wadden Sea by the team of Dolphinarium Harderwijk rescued whale Morgan from Holland, the Orca Ocean team could show how the trainers work with her as well. Morgan is completely integrated in the pod of orcas at Loro Parque, while being practically completely deaf with no chance to survive in nature, as confirmed by authoritative scientific reports. In the end of the presentation, the students of Animal Management were impressed from the opportunity to visit the underwater viewing area of Orca Ocean, where they could watch the orca pod interacting naturally with each other.
The team of Orca Ocean was very pleased to receive this group of students from the Groenhorst College who proved to be very enthusiastic and passionate for nature and animal wildlife. The orca trainers were particularly happy to share the details on their daily work with orcas and to get all the positive feedback and appreciation of the practical application of the gathered scientific data in helping to conserve the animal populations in the wild, as was the case with the efforts exerted by Loro Parque Fundación in the study of the pod of orcas in the Strait of Gibraltar and other relevant projects.