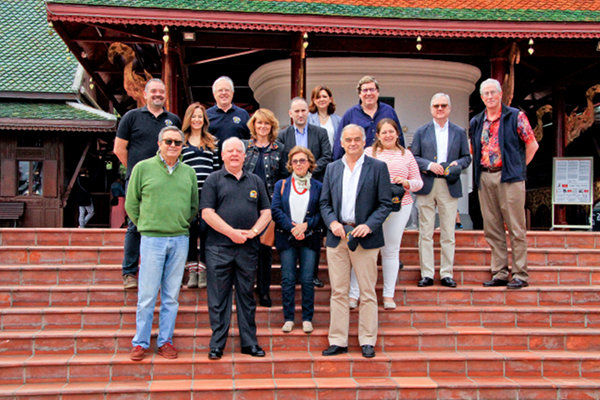 Once again, Loro Parque opens its doors to those interested in learning about the scientific and environmental labour realized by the park and its foundation. On this occasion, the Spanish delegation of the Partido Popular (People's Party) in the European Parliament, which is in the Canary Islands for a series of meetings with local institutions and organisations, visited the #1 Zoo in Europe and #2 in the World according to TripAdvisor.
During their visit to the facilities of Loro Parque on the morning of Friday, May 6, the MEPs discovered the pioneering exhibitions of this modern zoo, as well as the innovative projects on research, conservation and environmental protection led by Loro Parque Fundación worldwide.
Furthermore, the eleven MEPs enjoyed the educational presentations of the sea lions, the intelligent dolphins, and the noble and majestic family of Loro Parque's orcas in OrcaOcean. An opportunity where they also discovered Animal Embassy, one of the most emotional and outstanding exhibitions of the park, with which they learnt more about the Baby Station for nestlings, the clinic and the laboratory.
In addition, the delegation visited Loro Parque Fundación, the non-profit organisation that has led, since its creation in 1994, more than 120 international projects for the conservation of threatened species and habitats with an investment greater than USD 16.000.000.
Among the most important successes, Loro Parque Fundación has achieved to save two parrot species from extinction and to significantly improve the populations of many other other. MEPs' attention was especially drawn to the diverse research work carried out with orcas in Loro Parque that is directly applied to important projects aimed at enhancing conservation efforts for the wildlife, like for instance a project with the endangered population of orcas in the Strait of Gibraltar.
The delegation is pleased with the commitment at the highest level of animal welfare, as could be demonstrated in case of Morgan, a hearing-impaired orca that was rescued in the Netherlands and has completely recovered in Loro Parque. The MEPs' were also pleased by the commitment to the environment and research, education and responsible breeding programmes demonstrated by the park, which focus on excellence and quality by adopting the most innovative and sustainable practices.