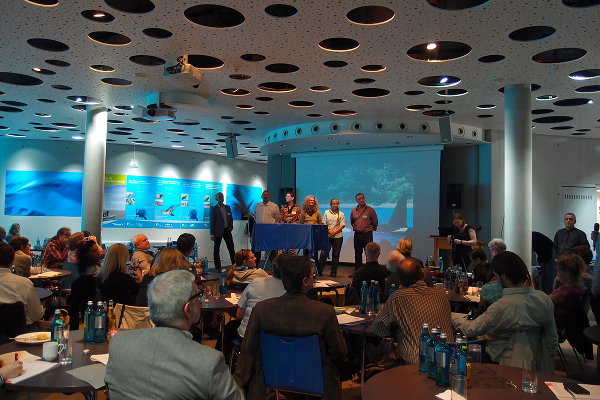 Original source: Tiergarten Nürnberg | EU-Workshop im Tiergarten (4 May 2016)
On Wednesday, 4th of May, the first expert conference was hosted by Nuremberg Zoo about Animal Welfare Indicators under the aegis of the European Parliament Intergroup "Climate Change, Biodiversity and Sustainable Development" which was represented by intergroup chairman, Czech deputy of the European Parliament, Pavel Poc. The European Office of Nuremberg has offered the highlights of the accomplishments of this event.
The following members of the international association of zoos and dolphinariums participated in the development of the idea, policy, organization and funding of the event:
European Association for Aquatic Mammals (EAAM)
European Association for Zoos and Aquaria (EAZA)
Alliance of Marine Mammal Parks and Aquariums (Alliance)
Association of zoological Gardens (VdZ)
World Association of Zoos and Aquariums (WAZA)
The target of this expert conference was to face the opponents in the social debate about the keeping of animals in zoos with the basic research and frame a consensus, based on academic knowledge, which describes a research concept to answer the most urgent questions about animal welfare in zoos.
For this reason, the programme was divided into the morning session where recognized experts got a chance to speak, while during the afternoon session a platform was created so that 80 association members and scientists were able to discuss concrete questions enabling a consensus beyond the socio-political differences.
The participants representing zoos, administrative bodies, universities and non-governmental organizations came from New Zealand, Canada, USA, Greece, Great Britain, France, Spain, Italy, Netherlands, Belgium, Lithuania, Czech Republic, Turkey, Switzerland, Austria and Germany.
In his welcome address and introduction highlighted the patron of the expert conference that the well-being of the animals is on top on the agenda:
"Animal welfare is high on European agenda. For years, EU has been working on an animal welfare agenda. Implementation of the legislative aspects of animal welfare have to be carried out based on the principle of subsidiarity. Member states have to enforce it. Animal welfare indicators are important for deciding on the standards."
The first part of the expert conference was to outline "Welfare Science" and the research about Animal Welfare Indicators.
Main Papers
Dr. Anastasia Komnenou, Assoc. Prof. of Surgery-Exotic and Wildlife Medicine from Aristotle University in Thessaloniki; Greece. For a veterinarian participating in an expert conference, I have to underline that the principal objective is improvement of the welfare of animals in human care. "As a veterinarian I support the collaboration with other specialists like biologists or behaviourists", said Komnenou. "It's really important to find indicators which provide for the needs of the animals in all European zoos."
Heather J. Bacon, BSc (Hons) BVSc CertZooMed MRCVS from the University of Edinburgh (Scotland) referred to the necessity to understand the general physiology, ecology and behaviour to develop Animal Welfare Indictors. "Developing a system of indicators of animal welfare requires a good understanding of general animal physiology, ecology and behaviour. Animal welfare should focus on the experience, and not be based on human opinion. Progress relies on collaboration and further investment of time and resources in this area."
Prof. Dr. Norbert Sachser, Institute for neurobiology and ethology of the Westphalia Wilhelm's University Munster.
Isabella Clegg, Universities Federation for Animal Welfare (UFAW), France.
Keynote speech about cognition research
Prof. Dr. Dr. h.c. Onur Güntürkün from Ruhr University Bochum (Institute for cognitive neuroscience) and awardee of the Gottfried Wilhelm Leibniz Prize (2013). His lecture topic was "Biopsychology – Cognitive capacities indicate welfare needs". Prof. Güntürkün pronounced the necessity of science. Thus, he stated that:
"My main concern are the non-charismatic animals. Those that we consider as boring, those that are not receiving the necessary attention from the media and the zoo visitors. How rich might their inner lives possibly be? We need science, a lot of science to also place these species into the spotlight of attention."
In a forum at the specialist conference representatives from zoos, administrative bodies, universities and non-governmental organizations answered the questions of the audience.
Dr. Javier Almunia, Loro Parque Fundación, Spain
Dr. Katrin Baumgartner, DVM, Nuremberg Zoo
Dr. Johanna Moritz, Bavarian State Agency for Health and Food Safety
Dr. Xavier Manteca, University of Barcelona, Spain
Dr. Niels van Elk, EEP coordinator of Tursiops truncatus, Dolphinarium Harderwijk, Netherlands
Dr. Ingrid N. Visser, founder and scientist of Orca Research Trust, New Zealand
Current zoo researches in relation to in-situ conservation actions were covered in the speeches by:
Prof. Guido Dehnhard, Institute for biosciences at the University of Rostock and M. Sc. Tim Hüttner, University of Bayreuth, told about electroreception of dolphins.
Dr. Lorenzo von Fersen, Nuremberg Zoo, and Dr. Kurt Hammerschmidt, Department of cognitive ethology at German Primate Center Göttingen, presented bioacustic studies about dolphins and manatees.
Dr. Niels van Elk, EEP coordinator for bottlenose dolphins, stressed out the importance of an interdisciplinary approach. "It was good to hold this workshop. The multidisciplinary approach must arrive in time to a pragmatic assessment approach based on science and consensus."
In autumn, the outcomes of the expert conference shall be presented to EU parliamentarians and members of the European Commission in Brussels.