Little more than two months after her arrival to Tenerife, Morgan has been fully integrated into the research programme carried out by Loro Parque Foundation (LPF) and the Scottish Oceans Institute, University of St. Andrews in Scotland. In the scope of this programme, Dr. Filipa Samarra, a bioacoustics expert from St. Andrews, has recently visited the facilities of Loro Parque in order to carry on with her study on the evolution of Morgan's dialect during her adaptation process to the rest of the killer whale group. Dr. Samarra has explained that killer whales are the only known species whose individuals can modify their dialect once acquired, while the rest only communicates with invariable dialects. During her visit to Tenerife, Dr. Samarra also offered a presentation of her experience in bioacoustics to researchers and postgraduate students of Physics and Biology at La Laguna University (ULL), where she explained further details of her previous studies on the dialects of the North Atlantic killer whale populations.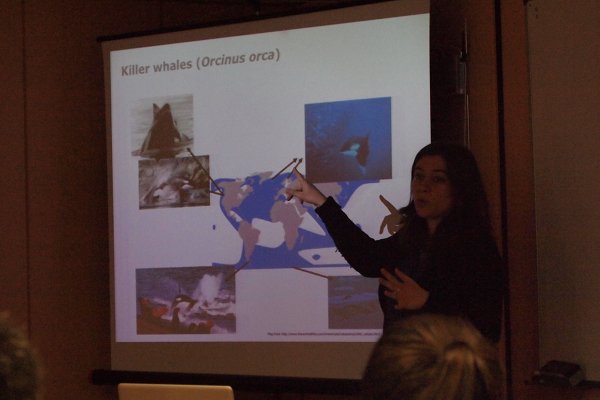 LPF and St. Andrews cooperate with each other in cetacean bioacoustic research projects and have put at the disposal of the international research community all the recordings of the killer whale Morgan, rescued by the Dolphinarium of Hardewijk and moved to Loro Parque, as ordered by a Dutch judge. These vocal recordings, which began when Morgan first came to Tenerife and were extended throughout her adaptation process, allow researchers to continue with the studies started after the rescue, as well as to acknowledge her successful integration into the Loro Parque killer whale group. .
Dr. Filippa Samarra knows Morgan very well as she was in charge of comparing Morgan's vocal recordings to the ones she had previously collected of different North Atlantic killer whale populations. She conducted two different research studies aimed at finding her family, which were unfortunately unsuccessful.
Dr. Filippa Samarra declared that the animal "is very active and relates with the rest of the group, presenting the typical scratches of the social interaction with other fellow killer whales, as also observed in wild populations".