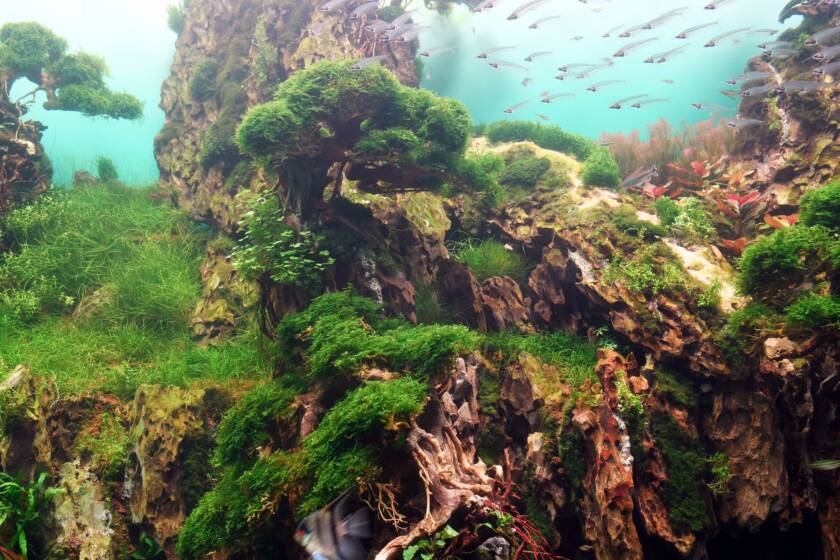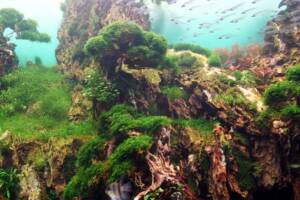 It's only a matter of days before Loro Parque inaugurates its new exhibition, a unique aquarium landscape where the main protagonist is the balance between the flora and fauna that coexist in its interior.  Called the Zen Garden, it will evoke the beauty of the perfect balance inherent in the planet's ecosystems, which is unfortunately being lost in the natural environment.
Thus, the synergy between botany, multidiscipline aquarium specialities and light that characterises this innovative exhibition will perfectly represent the wonders of nature.  Due to its exotic atmosphere, and ideal to accompany it in perfect harmony, the Zen Garden will be located in AquaViva, home of the most spectacular jellyfish from tropical seas.
This aquarium landscape is unprecedented as it is the first of its kind to be built in the world.  Some features that make it special are the use of fresh water in the installation or the presence of plant species inside, rare and yet fascinating.  Exotic fish, snails and small shrimp live together in this space where the main protagonist is the balance between flora and fauna.
The harmony and stability of the Zen Garden is such that it is self-supporting, maintaining itself and continuing without the necessity of the intervention of the human hand once the space has been designed.  This factor is considered a key goal in the art of aquascaping, a technique used in its creation.
The space is dominated by shadows, an element highly valued in Japanese culture as an aesthetic feature because they are considered to awaken the imagination of the observer through covert rather than overt exhibition.  Thus, this water garden invites visitors to discover an exhibition of a delicacy and spectacularity never before seen.
Through this innovative underwater garden, Loro Parque, as a wildlife conservation centre, wants to emphasise the importance of maintaining the balance of the natural environment ecosystems that represent the wonders of nature.  The exhibition will be open to the public from Friday, June 1, after its official opening on Thursday, May 31.