Bottlenose dolphins
Tursiops truncatus
Bottlenose dolphins inhabit temperate, subtropical, and tropical waters. They usually live in groups of between 15 and 25 individuals. They are very sociable, love to jump and ride waves. They are distinguished by a homogeneous greyish skin and a belly that can vary from white to pink, which allows them to reach speeds of 25 to 40 km/h.




Dolphins living under the care of Loro Parque
Interesting facts about dolphins
There are pink dolphins. They are very small and endangered populations that live in rivers such as the Amazon.
During lactation, female dolphins double or triple their fish intake.
They orient themselves by echolocation, by emitting waves that bounce off surfaces and generate an image of the objects in the dolphin's brain.
How we help to protect dolphins and other cetaceans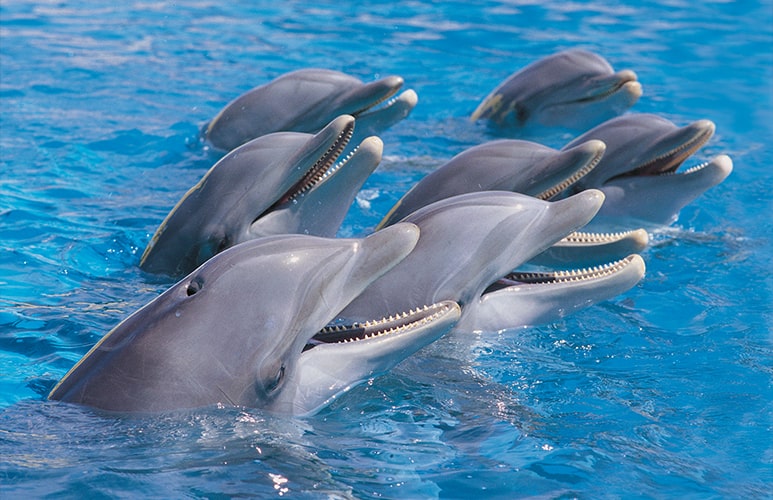 Loro Parque has been actively involved in the protection of dolphins and other cetaceans through initiatives such as:
Participation in scientific studies on the ability to identify materials through echolocation carried out at Loro Parque's facilities.
The organisation of international congresses on marine mammals (42nd Symposium of the European Marine Mammal Association).
Financial support, through the Loro Parque Fundación, for the conservation project of the Atlantic humpback dolphin in Senegal, a critically endangered species that could disappear in just a few decades.
Descárgate nuestra enciclopedia
Dentro de nuestra labor informativa y formativa sobre biodiversidad hemos desarrollado una enciclopedia sobre los cetáceos. Es un documento extenso donde encontrarás datos e información científica sobre el comportamiento y los mitos y verdades que rodean a estos animales.