Delfines mulares
Tursiops truncatus
Bottlenose dolphins inhabit temperate, subtropical, and tropical waters. They usually live in groups of between 15 and 25 individuals. They are very sociable, love to jump and ride waves. They are distinguished by a homogeneous greyish skin and a belly that can vary from white to pink, which allows them to reach speeds of 25 to 40 km/h.




Delfines que viven bajo el cuidado de Loro Parque
Curiosidades sobre los delfines
There are pink dolphins. They are very small and endangered populations that live in rivers such as the Amazon.
Durante la lactancia, las hembras de delfín duplican o triplican la ingesta de pescado.
Se orientan por ecolocalización, emitiendo ondas que al rebotar con las superficies generan una imagen de los objetos en el cerebro del delfín.
Cómo ayudamos a la protección de delfines y otros cetáceos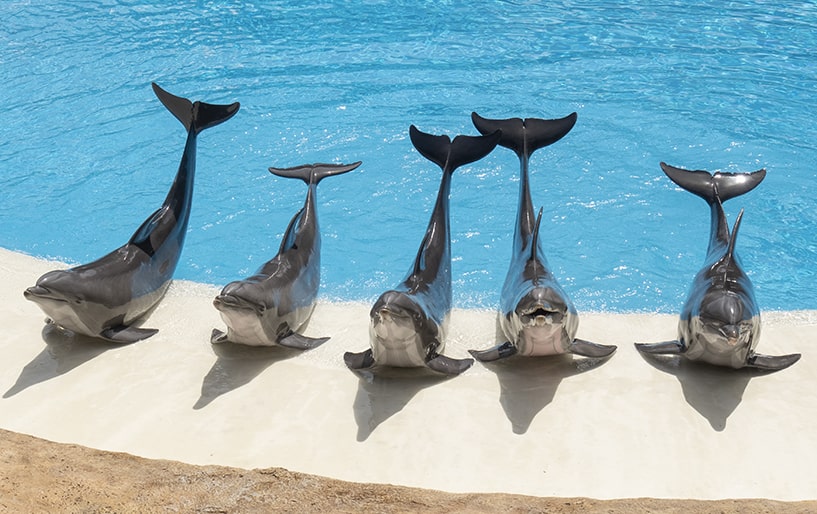 Desde Loro Parque participamos activamente en la protección de delfines y otros cetáceos a través de iniciativas tan diversas como:
la participación en estudios científicos sobre la capacidad de identificación de materiales a través de la ecolocalización realizados en las instalaciones de Loro Parque.
la organización de congresos de proyección internacional sobre mamíferos marinos (42º Simposio de la Asociación Europea de Mamíferos Marinos.
el apoyo económico, vía Loro Parque Fundación, en el proyecto de conservación del delfín jorobado del Atlántico en Senegal, una especie críticamente amenazada que podría desaparecer en unas pocas décadas.
Descárgate nuestra enciclopedia
Dentro de nuestra labor informativa y formativa sobre biodiversidad hemos desarrollado una enciclopedia sobre los cetáceos. Es un documento extenso donde encontrarás datos e información científica sobre el comportamiento y los mitos y verdades que rodean a estos animales.